Dental Hygiene Shouldn't Take a Holiday This Season
Dental Hygiene Shouldn't Take a Holiday This Season
Just one more week until the jolly fat guy in the big red suit visits children across the world. And while parties with family, friends and work colleagues are in full swing at this time of year, don't let that get in the way of good oral hygiene habits. Here are a few quick tips on how to make sure your good dental hygiene habits don't get lost in the mix this holiday season.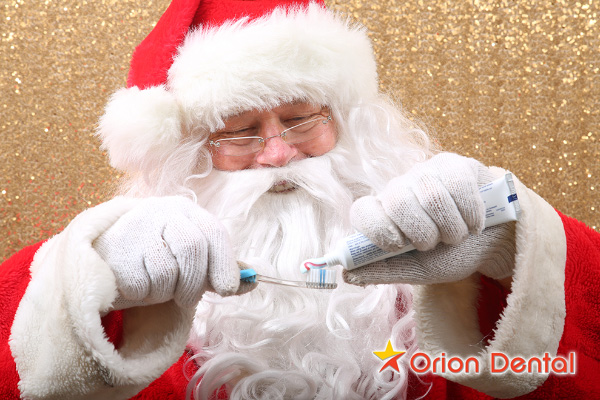 Dental Hygiene Tips for the Holiday
Here are some dental hygiene tips to help keep your mouth healthy and your teeth beautiful through the holidays:
Keep to Your Regular Schedule as Much as Possible – The holidays usually roll at a different pace, with more late nights than you might be used to as you celebrate the season with family and friends, and more sleeping in on well-deserved days off. Regardless of how much disruption the holidays bring, try to keep to your regular schedule as much as possible. This will increase your chances of remembering to brush and floss in the morning and before you go to bed at night.
Leave Vegetable Snacks on the Counter – Christmas is notorious for sweet desserts, with Christmas cake, mince pies and gingerbread cookies being some of the most popular desserts at this time of year. But if you're enjoying a relaxing day at home, try preparing some vegetables and leave them on your kitchen counter for you and your kids to nibble on. They'll bring some much welcomed low-sugar and high nutrition eating to the season and raw vegetables act as natural scrubbers for your teeth.
Dental Themed Stocking Stuffers – Everyone loves stocking stuffers on Christmas morning. If you have young kids, pop a new toothbrush or tube of toothpaste in the stocking. They'll never utter a bad word about something Santa left, and if it's a kid-themed toothbrush with a favourite character or bright colours, they just might look forward to ripping it out of its packaging and using it!
Don't Use Your Teeth as Tools – There are lots of presents that will need to be opened, and it'll be so tempting to use your teeth to rip into packaging material or pry toy parts off for the kids. Don't use your teeth as tools! They're much too important to risk cracking, chipping or breaking a tooth because you tried to save yourself a few minutes not getting the right tool for the job.
And the biggest dental hygiene tip we can offer for the holiday season is to start 2019 off the right way: with a trip to either of our Milton or Scarborough dental offices! Orion Dental offers a comprehensive range of dental services to keep your and your families smiles beautiful and healthy. Call us today to book an appointment and let's get started!
From everyone at our dental offices to all our patients and your families and friends, Merry Christmas! Thank you for allowing us to be part of your year, we wish you a safe and happy holiday season and we look forward to another awesome year in 2019!