What is a Root Canal?
The commonly referred to "root canal" is actually a part of the tooth and not a treatment as it's commonly known as. The treatment is the procedure the dentist performs to repair the root canal. The purpose of that treatment is to remove all of the contaminated pulp of the tooth, backfill it and seal it to save the tooth and to protect it from further damage.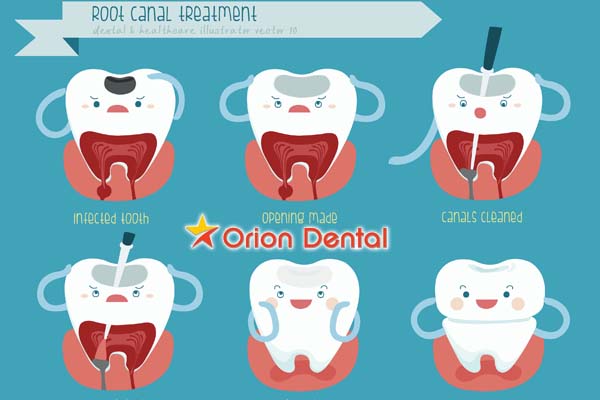 Unfortunately, root canals have a reputation of being a painful and excruciating experience and people tend to avoid them. This should not be the case at all! Much like a filling where decay is removed from the tooth and it's filled and sealed a root canal is the same but goes a little deeper. Because you are under anesthetic it doesn't hurt any more than a regular filling.
The pulp is necessary during the growing stages of the tooth as it supplies the tooth with nutrients but an adult tooth no longer requires it as it gets its nutrients from the surrounding gums and tissue. More reason to take care of those teeth and gums!
Once the contaminated pulp is removed the root canal is filled and then either topped off with a regular filling or a cap. The best part of this is that once the procedure is complete the tooth is effectively dead because the nerve was removed the patient will no longer feel pain in the tooth. You will be back to smiling, biting and chewing with ease in no time!
What Are The Symptoms and How Do You Know You Need a Root Canal
The symptoms can vary from person to person but generally show up as:
Swollen and sore gums
Pain when biting down or chewing
Sensitivity to hot or cold even after the sensation has been removed
A chipped or cracked tooth
Darkening of the gums and/or pimples on the gums
The bottom line on root canal treatment is to not be afraid! They are a routine treatment that your dentist handles on a daily basis. For more information contact  Orion Dental  We are well-practiced in this procedure and highly recommend that if you are experiencing any of the above symptoms to come in to see us so that we can assess the level of treatment required.
Orion Dental is a full-service family dentist with offices conveniently located in Milton and Scarborough. We offer dental services for the entire family, and with our bright colourful waiting rooms and crafts to keep your children busy while they wait, we live up to our reputation of being The Gentle Dentist! Call our Milton dentist office at (905) 636 – 9770 or our Scarborough dentist office at (416) 291 – 0306 and book an appointment today!
Orion Dental
Orion Dental is one of the most sought after dental care providers in the Scarborough ON and Milton ON areas who offer comprehensive dental care. The age of our patients is from 1 to 100. We are among a few dental clinics that provide a complete suite of dentistry services – these include Dental Implants, Periodontics (Gum disease treatment), Orthodontics (Braces and Invisalign), Endodontics (Root Canal treatment), Children's Dentistry, Impacted Wisdom Tooth Extraction, TMJ treatment, and cosmetic treatments like Smile Enhancement, Teeth Whitening, and other advanced dental solutions.
Our dentists are all highly qualified and experienced. We constantly update our technology to ensure that we bring the benefit of the latest proven dental technologies to our patients. Moreover, we make it a point for our dentists to be constantly engaged in ongoing learning and up-gradation of their knowledge and skills. We are well known for our safe and empathetic care approach to treatment. We offer affordable and quality dental care services. Our goal is that our patients, no matter their ages, are able to get healthy and beautiful smiles.