Do Away With Bad Breath Before The Festivities Begin!
Are you getting a feeling that people are avoiding talking to you at gatherings? Do they turn away little when you talk? Wondering what's wrong with you? It's not you, it's probably your bad breath, but don't worry, there's usually a pretty easy fix for this!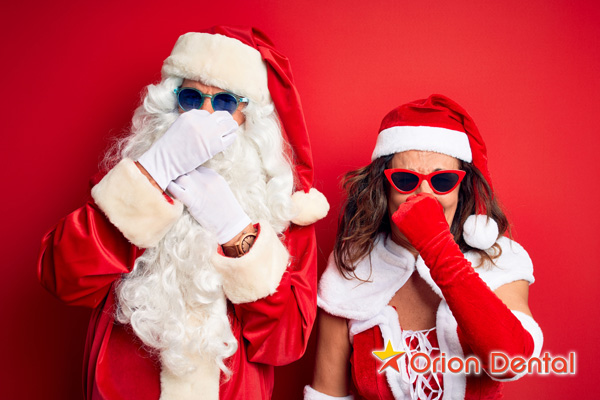 What Causes Bad Breath?
It might be easier to ask what doesn't cause bad breath the list might be shorter, however, putting the obvious food choices of garlic, onions, spices etc… aside what else is going on in there that makes our friends turn away from us when we talk?
Let's take a look at some of the more well know culprits of bad breath or halitosis, and then dive right in to the ones we might not think about.
Smoking – Yup, probably an easy one to guess but often overlooked is the cigarette you just finished smoking and cigars? They are even worse!
Alcohol – This is an obvious one to those who don't drink or to those who aren't currently drinking that glass of red wine with you at your holiday party but alcohol is right up there with smoking for the effects it has on your breath.
Poor oral hygiene – Of course this one is an easy one to add to the list, everybody knows that not brushing your teeth and flossing will result in bad breath…don't they?
So those are just a few of the obvious reasons that most people know about, but what are some of the other reasons a person is finding themselves the lonely sole in the corner at the party? These just might surprise you!
Dry Mouth – If your mouth is dry and lacking in natural lubricant it can most definitely cause bad breath
Sinus or throat infections – This actually makes sense when you think about it, when you're sick you have perma-morning breath!
Kidney/Liver failure or other gastrointestinal issues. What? Yes, the breath tells us a lot about our health
Tonsil Stones – They exist, check it out here.
As you can see there are many reasons for a person to have bad breath but as you can also see, for the most part they are easily resolved. Regular visits to your dentist is a great place to start with getting to know the inside of your mouth a little bit better. At Orion Dental we pride ourselves in educating our patients with home care for their teeth and gums.
Orion Dental has two convenient locations for you one in Milton and one in Scarborough so wherever you are in the GTA you won't have far to go to find us. Give us a call today to get started with your better oral hygiene and say good bye to bad breath!